Gadgets - a travel essentials guide for 2022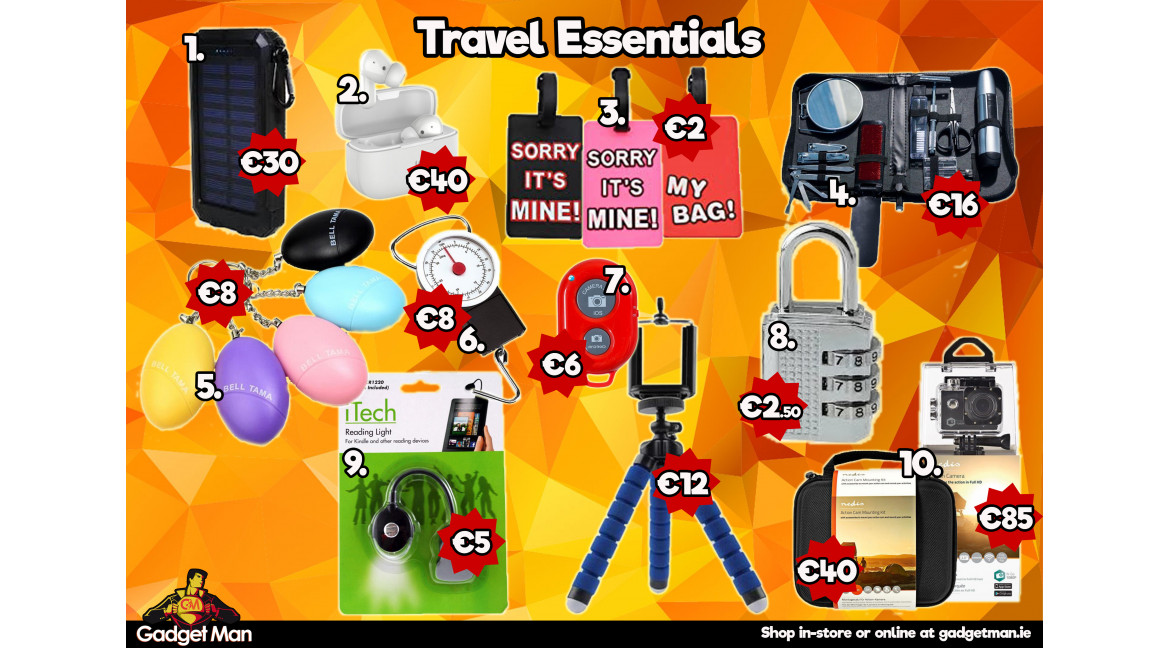 Summer is finally here and we are all itching to take that long awaited holiday. Regardless of your destination of choice this year, there are a few gadgets that could make your travels easier, more enjoyable, safer and stress free. We've put together a list of our favorite ones for you and here they are:
Solar Charger Power Bank. Having one of these in your travel bag will ensure that you won't run out of battery on your phone or other gadgets while traveling. They come in different shapes and forms but this solar 10.000 MAH one is our go to one. It can charge up to two devices simultaneously, it is waterproof, dirt and dust and proof. It has a large capacity, capable of charging your smartphone up to five times. It is compatible with iPhones, iPads, Android phones, GPS devices, cameras. 

Ksix Earpods - Enjoying your favorite music during your travels is a must. These wireless headphones are light, portable and have a great sound quality. They have six hours of continuous playtime, extended by eighteen hours charging case capacity. 

Luggage Tags - making sure your luggage is easily recognisable at the airport with these cool tags. Pick your one and you'll never get your bag mixed up again. ( in store only )

Grooming Kit - This 10 piece grooming kit will cover any grooming necessities while away. It is ideal for use at home or while on the road. 

Personal Alarm - Safety comes first. Feel that extra bit safe with this keyring safety alarm which can help you protect yourself against attackers or intruders. 

Luggage Scales - Make sure you will never exceed the weight limit on your luggage again. Use this to check the weight before going to the airport.  

Tripod and remote shutter - to help you take the best shots with your phone during your travels. Compact and easy to use, you will never complain about not having nice pictures again. 

Lock - keep your belongings safe with this password lock. You won't need to worry about stuff disappearing from your bag. ( in store only )

Reading Light - for those who love reading during their travels, this clip reading light is just what you need. 

 Needis Action Camera - make sure you capture all those amazing adventures memories with this waterproof action camera. With the Mounting Kit it can be easily mounted on different surfaces so documenting your travels becomes super simple.